You are currently browsing the tag archive for the 'Poverty and Development' tag.
Tonight, thousands of Australians will switch off their lights for Earth Hour. They will be joined by millions of people around the world united by their concern for climate change. Whether or not you will one of those turning the lights off tonight, I ask you to switch on your social conscience.
While most people in the developed world have the luxury of participating in a self-imposed blackout for an hour, billions of people in developing countries have no choice. For them, even fossil fuels are too expensive.
Published by the ABC, Australia's national broadcaster.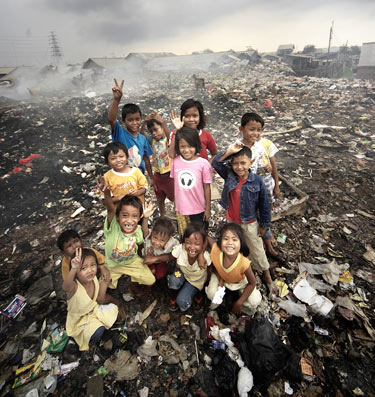 The latest round of international climate change negotiations is now underway in the Mexican resort town Cancún. After the disappointing outcome at last year's UNFCCC negotiations in Copenhagen there is a notable enthusiasm gap for the 16th Conference of the Parties (COP 16). Nonetheless, hundreds of politicians, government officials, activists and lobbyists from around the world have gathered in Cancún to work towards a global agreement on climate change.
On the eve of COP 16, the Nobel-winning environmental activist Wangari Maathai challenged us all to keep climate change in perspective. 'If we are to help steer the world through this uncertainty, we must be clear that climate change, though important, is only one part of the puzzle,' Maathai wrote in The Guardian.
'If we truly want to tackle climate change, poverty and conflict we need to think holistically. We need to, as Ban Ki-moon said at the launch of the UN global sustainability panel, "think big, connecting the dots between poverty, energy, food, water, environmental pressure and climate change."'

'Focusing on only one dot means that we lose sight of the bigger picture.'
Maathai adds:
'[The UNFCCC] negotiations are about more than climate change – we need to find reason to trust each other so that we can find a new way of working together to tackle the connected global challenges we face. Our failure to link these issues affects us all.'
This is great sentiment, and I agree that we need to pay more attention to the interconnected nature of the challenges facing humankind, but what would this approach look like?
Published by The Breakthrough Institute, a progressive think tank based in Oakland, California, and cross posted at US energy blog, WattHead.
Of all the news and commentary I read about Earth Hour in Australia, not once did I see a mention of the billions of people that now live in energy poverty. Event organizers and commentators failed to discuss the fact that while millions of people around the world symbolically switched off their lights for one hour, billions are desperate to turn their lights on.
According to the Baker Institute at Rice University:
"…roughly 1.6 billion people, which is one quarter of the global population, still have no access to electricity and some 2.4 billion people rely on traditional biomass, including wood, agricultural residues and dung, for cooking and heating. More than 99 percent of people without electricity live in developing regions, and four out of five live in rural areas of South Asia and sub-Saharan Africa."
For an event that professes to support climate change solutions, one would think that addressing energy poverty without wrecking our climate would feature prominently in Earth Hour campaigning. So why was energy poverty ignored? And what does this say about the environmental thinking that informed Earth Hour?